News with Senpavo! Week 6
News with Senpavo! Week 6
Hello everyone, this is Senpavo writing and welcome to my article series, News with Senpavo! Tune in every Sunday for more news. Read last week's news here.
Nintendo has tons to share this week, some good and some bad. Let's give it a look together.
Nintendo Sales Report
The latest Nintendo report offers new updates on their future games, general sales and more!
Nintendo Switch Sales Surpass Nintendo 64
The Nintendo Switch has sold 34,74 million copies worldwide, officially surpassing the Nintendo 64, that stopped at 33 million.
To add to that, Nintendo didn't reach this year's objective to sell 17 million copies. They sold 16.95 million (which is still very good). Finally, Nintendo is teaming up with Tencent to bring the Switch to China, which will surely increase their sales by a large margin.
Nintendo Switch Top 10 Best Selling Games
Nintendo has also updated its list of best selling games: Mario Kart 8 Deluxe is still the best selling Nintendo Switch game with 16.69 million copies. Super Smash Bros Ultimate became the best selling Smash game with 13.81 million copies sold worldwide. New Super Mario Bros. U Deluxe was added to the list, selling 3.31 million copies worldwide, and is selling faster than its WIIU counterpart.
No Delays For This Year's Releases!
Once again, no delays! For now, for this year's releases, nothing seems to change. Oddly enough, Marvel Ultimate Alliance 3: The Black Order hasn't been updated, even if the official release date was revealed a few days ago.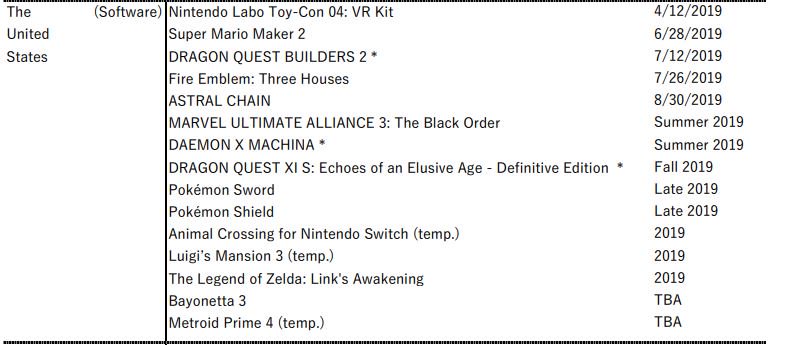 Nintendo removes most traces of the Wii, DS and Wii U from their website
All the pages containing information about the Wii, Wii U and DS (along with WiiWare and DSiWare) disappeared from the official Nintendo of America. If you try to find the Wii U page, it displays an error message. The only thing remaining of these consoles is the support page, which will most likely remain forever since Nintendo keep their support page active for their retro consoles too.
No new games to announce for the 3DS?
"We have nothing new to announce regarding first-party software for the Nintendo 3DS family of systems. We can confirm that new software is coming from third-party publishers." This is what a spokesman from Nintendo responded to an email from Kotaku.  The 3DS is already 9 years old and the amount of support is surprising, to say the least. All we know is that Persona Q2: New Cinema Labyrinth is the only third-party game that will be released this year.
More details on Persona 5 The Royal
The red-haired girl we saw in the first Persona 5 The Royal trailer is a new Phantom Thief! Her name is Kasumi Yoshizawa. She entered the school in the same semester as the protagonist and she's a rhythmic gymnast.
Takuto Maruki is a new confidant for the Phantom Thieves. He's a part-time counsellor who was appointed after an incident involving a teacher in Shujin Academy in April.

The Royal will also include:
A 3rd school semester not told in the original story
New locations including Kichijoji, as well as new dating spots
Addition of the darts machine DARTSLIVE3 as a real-life collaboration. The hero can invite friends to play darts here after school
New events
SNS can now have photo uploads
New enemies
New treasures appearing in palaces
Coop Assist command feature to help daily life
Several new songs from Shoji Meguro
PlayStation 4 Pro enhanced graphics support
Persona 5 S revealed!
On the 25th, Atlus finally revealed what P5S: Persona 5 Scramble: The Phantom Strikers! It's a spin-off  Warriors-like game developed by Koei Tecmo and Omega Force. No release window has been revealed yet but it will be available for Playstation 4 and Nintendo Switch.
Mario Maker 2 release date announcement!
This week, Nintendo revealed the release date for Mario Maker 2 for the Nintendo Switch on Twitter that the game will release on June 26th. A limited edition which includes a one-year subscription to Nintendo Switch Online will be available for 70 dollars, pre-orders will get a special Mario Maker stylus.
Let's-a go! Let your imagination run wild as you make and play the Super Mario courses of your dreams when #SuperMarioMaker2 launches for #NintendoSwitch on 6/28! https://t.co/TnK9rQwRJi pic.twitter.com/eSJfb7JSPj

— Nintendo of America (@NintendoAmerica) April 24, 2019
Anyday Reviews Plays!
So, with all those gaming news (with Senpavo!) what has the AnyDay Reviews team been playing this month? Let's find out!
Leavan Albero says:
Hello there, everybody. We are at the end of April, so might as well tell you all what have I been playing. Actually, I've been mostly playing 2 games on my PS4: Marvel's Spider-Man and Spyro: Re-Ignited Trilogy. Both in which released last year (2018). Marvel's Spider-Man is a PS4 Marvel Exclusive developed by Insomniac Games, the same people responsible for the 3 original Spyro the Dragon games, Ratchet & Clank, and the Resistance series. The game is in my opinion very awesome and interesting. While I won't say much due to spoilers, just know that a lot of iconic characters return and are really great, along with the gameplay itself plus the combat. Spyro: Re-Ignited Trilogy, also, is an HD Compilation containing all 3 original games remastered for PS4 and Xbox One. While I am still on the 1st game, I already know for a fact that it all gets even better as I explore the compilation and the Spyro Universe that Insomniac Games originally created and Toys For Bob brought back.
SENPAVO FOUND THIS WEEK'S NEWS 
GOOD
That's all folks, and thank you for joining me in News With Senpavo, expect more news next Sunday!